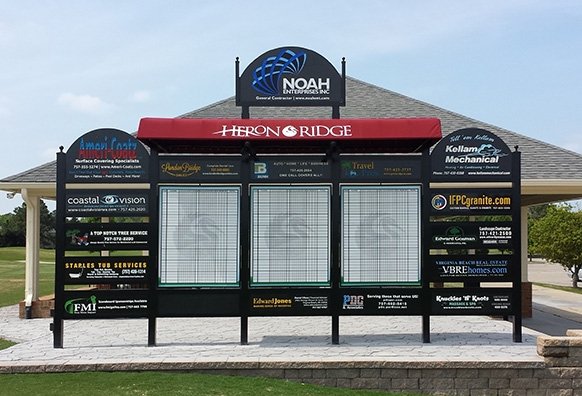 Leaderboards of America (LBA) is a leader in innovative and effective visual marketing solutions with a focus on point-of presence sponsorships at golf venues. Years of extensive experience in the creation and construction of leaderboards and leaderboard sponsorships allows LBA to develop, design and deliver unique and impactful branding solutions that deliver real results for all types of businesses and organizations.
LBA's thoughtful and targeted approach to branding extends market reach and enhances customer loyalty. Attractive and eye-catching logos and images are strategically located on highly visible and weather-resistant professional tournament leaderboards at golf courses throughout the country. These virtually unavoidable points of presence result in hundreds of thousands of impressions annually – all to very qualified, high-income demographics.
Effective for sponsors, LBA's solutions are also attractive and useful complements to all levels of golf venues. LBA's teams of professionals understand both the needs of sponsors as well as golf course owners and operators alike. Custom designed to deliver results and benefits for all stakeholders, LBA can provide solutions for any business challenge and any golf course.